I am so excited to have Andy post on the blog today! Read below to find out what products she used to achieve her red and white look below.
Hi everyone! I'm Andy from Ampersaand and I'm really excited to be guest-posting on Scarlet Beauty this month! Thank you so much for having me, Jenn!
This month's theme is red and white looks, so I have created a super easy summer look using my favourite red and white beauty products. This look is all about keeping things fun, light and fresh – a flawless complexion, a subtle flush of colour on the cheeks, a pop of red on the lips, and most importantly, big, bright eyes. Oh, and a super chic mani to finish things off, of course! Here's what I used to get the look: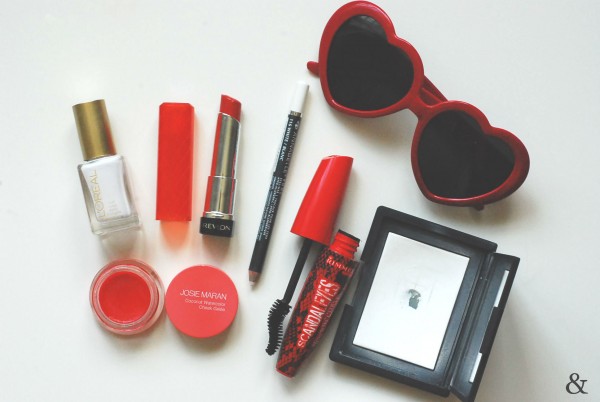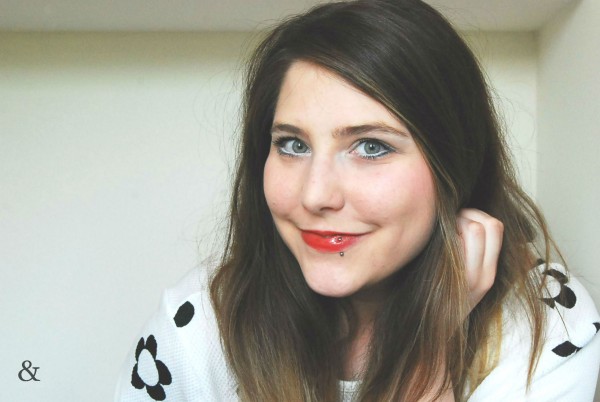 Complexion: For a flawless complexion, I like to set my foundation using the Nars Light Reflecting Pressed Setting Powder in Translucent Crystal. It goes on completely clear and doesn't leave me looking cakey, but it reflects light in a way that blurs all the imperfections that my foundation doesn't quite manage to cover.
Cheeks: When I do big eyes and bold lips, I like to keep my cheeks looking natural. The Josie Maran Coconut Watercolor Cheek Gelée in Poppy Paradise is the product I turn to in these situations, and it's also one of my summer essentials. The texture is absolutely amazing…it almost feels like water! It looks a little too red to be wearable in the pot, but it goes on incredibly sheer. If you're looking for a natural pop of colour that's going to leave your cheeks beautifully dewy, this is the blush for you!
Lips: It would be impossible for me to write about my favourite red and white beauty products without mentioning the Revlon Colorburst Lip Butter in Candy Apple. A red lip is an easy way to inject some fun into a boring day, and Candy Apple is my go-to lip product for a fuss-free red pout. You can take it from sheer-and-subtle to opaque-and-fierce in a couple of swipes and no matter how you wear it, the colour is always flattering.
Eyes: Big eyes are the key to any great makeup look for me, but I have only just started experimenting with different eyeliners. White eyeliner is a new addition to my makeup routine, but I absolutely love it. For this look, I simply used my white Annabelle Kohl Eyeliner in the inner corner, the waterline and smudged a little on the outer upper lash line with my finger to brighten up the eye. I then used several coats of the Rimmel Scandaleyes Rockin' Curves in Extreme Black. I made sure to apply a lot of mascara to my bottom lashes, both to open up the eye as much as possible and because the black frames the white eyeliner nicely.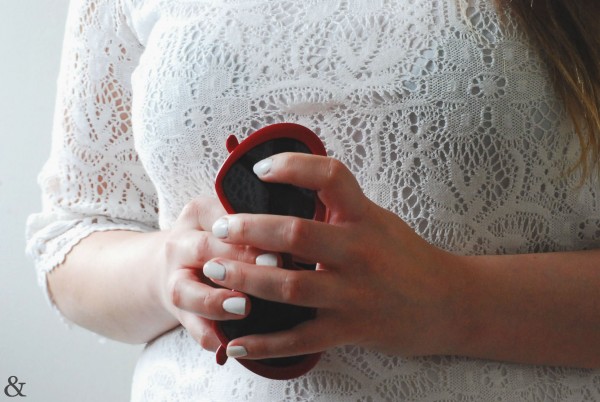 Nails: A good manicure really pulls a look together, and I couldn't pass up this opportunity to chat some more about my love for white nail polish! A white mani is a chic alternative to neon or pastel summer shades, and I honestly cannot imagine I will ever get sick of how pretty and clean it looks. I also love how it brightens up any outfit instantly, and it has the added benefit of making my chubby fingers appear longer…Perfection!
I really love this red and white themed look and it's super easy to achieve! How do you keep your makeup fresh and bright during the warmer months?
Loading InLinkz ...
Follow Scarlet Beauty!
Twitter | Instagram | Facebook | Bloglovin' | Google+