The Chatelaine Beauty 100 Top Makeup & Hair Picks have been announced in the September 2014 issue!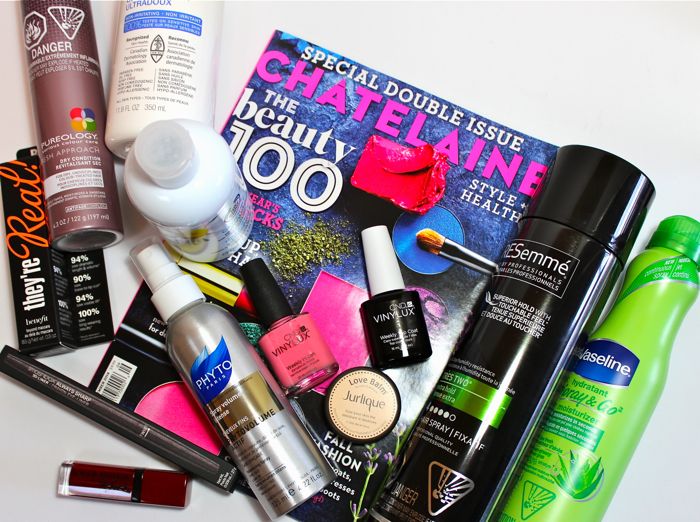 The 100 products consisting of hair, makeup, skin care, and beauty tools have been chosen by a panel of experts in the beauty industry.
I was lucky enough to be sent 11 of the 100 products:
– Marcelle Ultra Gentle Cleansing Gel
– The Body Shop Camomile Gentle Eye-Makeup Remover
– Benefit They're Real! Mascara
– CND VINYLUX Weekly Top Coat & Polish
– Smashbox Always Sharp 3D Liner in 3D Galaxy
– Phyto Paris Phytovolume Actif Volumizing Spray
– Tresemme Tres Two Extra Hold Hairspray
– Pureology Fresh Approach Dry Condition Spray
– Vaseline Spray & Go Moisturizer in Aloe Fresh
– Naturally Nourished Jurlique Love Balm
– Bourjois Paris Rouge Edition Lipstick
I am so excited to try all of these out! I do have a mini Benefit They're Real! Mascara already that I haven't tried, and different shade of the Bourjois Paris Rouge Edition Lipstick which I absolutely love. But you can never have too much mascara or lipstick, am I right? I'll be sure to let you guys know what I think after I've had some time to test each product out. Let me know if there's anything in particular that you're interested to see reviewed or if you've tried any of these!
I must say that it's a great list that Chatelaine has complied this year, you can check it out here. You'll find that there are recommendations available in all price ranges, which is always a good thing.
I counted how many of the 100 I've tried and my total was 14! How many have you tried? Are there any must haves that you'd add to Chatelaine's Beauty 100 list?
Follow Scarlet Beauty!
Twitter | Instagram | Facebook | Bloglovin' | Google+