This is the time of year when all the holiday sets start to come out, it can be quite dangerous! There are so many brands offering minis of their products, or a group of products together for much less than what they would usually retail for. Of all the stuff that has come out recently or is coming out soon, here's my current beauty wish list.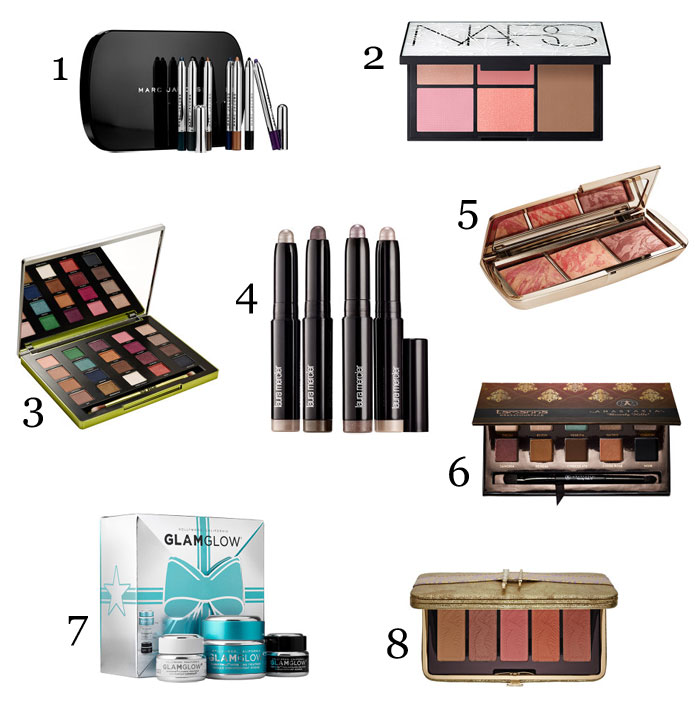 1. Marc Jacobs Beauty – The Sky-Liner Seven Piece Petite Highliner Collection – I've been hearing amazing things about Marc Jacobs liners, and what better way to try them than to get a set like this. It comes with 7 x 0.01 oz Highliner gel crayons in O(vert) (forest green), Brown(out) (bronze with shimmer), Th(ink) (deep navy), (Plum)age (vivid purple), Blacquer (black), Sunset (golden bronze shimmer), Midnight in Paris (inky indigo blue). I'm always on the hunt for that perfect black liner, and I definitely enjoy some colour once in a while too.
2. NARS Virtual Domination Palette – I've actually never sprung for any of the holiday NARS blush palettes, and have regretting it. Not this year! I'm anxiously awaiting the release date in Sephora next month. This gorgeous palette contains 4 blushes and a bronzer in:
Laguna Bronzer –

 Diffused brown powder with golden shimmer

Miss Liberty Blush –

 Soft shimmering peach

Deep Throat Blush

 – Flirty sheer peach

Sex Fantasy Blush

 – Pale lavender pink

Final Cut Blush

 – Peach coral
3. Urban Decay Vice 3 Palette – I can't believe that I went years without being interested in eyeshadow palettes. I seem to have made up for that this year by acquiring way too many neutral palettes. No, I take that back. There isn't such a thing as too many neutral palettes. Anyway, I've got my sights on Vice 3. I've been nothing but impressed by the formula of Urban Decay's shadows and this would be a good addition to my collection.
4. Laura Mercier Mini Caviar Stick Eye Colour Quartet – I've had Laura Mercier Caviar Sticks on my wish list forever and was so excited when I saw this set of 4 minis. It's a great way to try more than one colour because let's be honest, it would probably take a really long time to finish up a full sized Caviar Stick. At least it would for me, I'm constantly rotating through products in my collection. Rosegold, Moonlight, Amethyst, and Cocoa are included in this set.
5. Hourglass Ambient Lighting Blush Palette – Who hasn't heard about this palette yet? When I saw the announcement that Hourglass was coming up with an Ambient Lighting Blush Palette, I knew I had to have it. The full size blushes are a bit pricy, and I have never used up a blush in my life, so this is the perfect solution. 3 blushes in one amazing palette. Included in this are Luminous Flush (champagne rose), Incandescent Electra (cool peach), Mood Exposure (soft plum). Spoiler alert, I bought this the minute it was available for Sephora VIB Rouge members and will be reviewing it soon.
6. Anastasia Tammana Palette – This is a fall and holiday palette designed in collaboration with world famous makeup artist Tamanna Roashan. We all know that Anastasia has brow products that are out of this world, so it's great to see that she's coming out with eyeshadow palettes now as well. This palette comes with 10 shadows – Sangria, Venezia, Custom, China Rose, Fresh, Chocolate, Bengal, Noir, Gilded, and Blush. I'm hoping I can get my hands on this before it sells out.
7. Glamglow Gift Sexy – I'm lusting after this trio of Glamglow's skincare treatment masks. These are quite pricy on their own, but a much better value in this set. I've been really trying to invest in better skincare this year and it makes so much of a difference in how my skin looks. These masks would make a great addition to my routine. It comes with:
-1.7 oz THIRSTYMUD™ Hydrating Treatment
– 0.5 oz SUPERMUD™ Clearing Treatment
– 0.5 oz YOUTHMUD™ Tinglexfoliate Treatment
8. Tarte Pin Up Girl Amazonian Clay 12-Hour Blush Palette – I know, I know. 3 blush palettes included on a wish list of 8 things? Apparently I'm going through a phase of wanting all the blushes everywhere. Don't judge. There are 5 blushes in this set – Breathless (pinky beige), Embraced (plummy rose), Whimsy (light pink), Bashful (rosy peach), Irreplaceable (mauve rose).
I know as more and more sets are released for the holidays, I'm going to be adding to this list and trying to narrow down what to actually purchase.
Do you have anything from this list? What's on your current wish list?
Follow Scarlet Beauty!
Twitter | Instagram | Facebook | Bloglovin' | Google+